Market Overview
Alkylation adds a carbon-hydrogen group to a molecule. Alkylates are reaction products. In the petroleum industry, isobutane and olefins like propylene are alkylated with sulfuric or hydrofluoric acid to make high-octane gasoline. The gasoline-compatible alkylate possesses high octane, low vapor pressure, and stability. In organic synthesis, alkylation adds alkyl groups to molecules, changing their physical and chemical properties.
Growth Drivers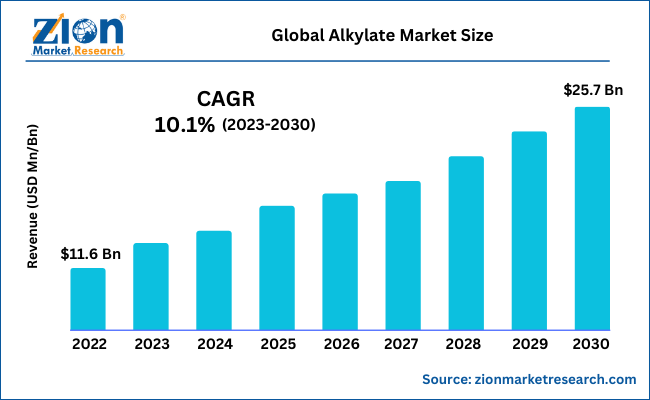 With a CAGR of roughly 10.1% between 2023 and 2030, the global alkylate market is expected to grow from its 2022 valuation of $11.6 Billion to reach $25.7 Billion by the end of 2030.
The growth of the globally alkylate market will be influenced by the increasing demand for alkylate used in the manufacturing of herbicides, insecticides, fertilizers, and pesticides. Alkylate demand will skyrocket as the price of agricultural output continues to rise. According to reports, alkylate's widespread application in octane fuels like gasoline drives demand worldwide. Growing demand for automobiles in both developing and developed countries will increase the size of the worldwide market. Demand for alkylate will increase as the government places more emphasis on economic development.
The global alkylate market will expand due to rising government spending on agriculture, aerospace, and automotive industries and a focus on research activities connected to alkylate production. The aviation industry's growing demand for clean fuel is a key factor in the global market's continued growth. Global agrochemicals markets are expected to expand as rising demand for these products drives product innovation and distribution to more regions.
Market Segmentation
The global alkylate market is split by end-use into aviation, automotive, agriculture, and others. In the next eight years, the agriculture category, which accounted for more over half of the global market share in 2022, is expected to lead. Due to crop diseases, pesticide use is expected to increase, driving segmental growth. Agrochemicals and pesticide sulfonation use alkylates.
Alkylates are used in solvents, surfactants, functional fluids, and additives. In addition, the solvents section, which made up over half of the global industry in 2022, will lead the segmental growth. Solvent use in chemical labs, biotech R&D, and other biological fields drove category expansion from 2023 to 2030. Solvent alkylation adds high-octane carbons to aviation and aerospace gasoline, enabling auto-ignition at desired octane ratings.
Sulfuric acid, hydrofluoric acid, and other industrial processes split the global alkylate sector. Hydrofluoric acid alkylation is expected to have the greatest CAGR. Hydrofluoric acid alkylation's reduced temperature sensitivity compared to sulfuric acid alkylation causes segmental proliferation.
Key Player Analysis
The alkylate market profiles key players such as:
Hengyi Industries Sdn Bhd (Malaysia)
Janex S.A (Switzerland)
Honeywell International Inc. (U.S.)
ExxonMobil Corporation (U.S.)
Koch Engineered Solutions (U.S.)
Marathon Petroleum Corporation (U.S.)
PJSC Lukoil Oil Company (Russia)
BASF SE (Germany)
Royal Shell plc (UK)
Chevron Corporation (U.S.)
SOLVAY (Belgium)
Soltex Inc. (U.S.)
Dupont (U.S.)
Valero (U.S.)
Ashland Inc. (U.S.)
Neste (Finland)
Reliance Industries Limited (India)
Adrol (U.S.)
Cosmique Pvt. Ltd. (India).