Olefins Market Overview
Olefins are unsaturated hydrocarbons with at least one carbon-carbon double bond, hence the alternative name "alkenes." They're used to make everything from plastics to synthetic fabrics to detergents and solvents, making them an essential part of the petrochemical industry.
Cracking petroleum fractions or natural gas liquids yields huge volumes of ethylene (C2H4) and propylene (C3H6), the two most common olefins. Butene, pentene, hexene, and octene are also essential olefins.
Among the many chemical processes that can occur with olefins are addition, polymerization, and oxidation. Alcohols, acids, and esters are just some of the compounds that can be made from these feedstocks.
Olefins Market: Growth Factors
The global olefins market was valued USD 240.1 Billion in 2022 and is expected to rise to USD 348 Billion by 2030 at a CAGR of 4.76%.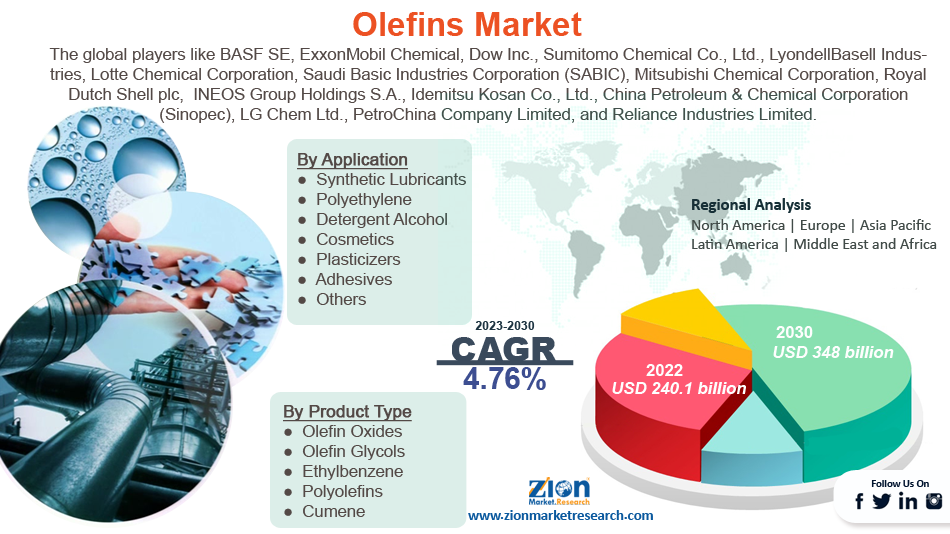 Increasing demand from end-user sectors such packaging, automotive, construction, and textiles is expected to boost the global olefins market. Revenue from these industries has a direct effect on the demand for olefins, and some of these industries are among the fastest-growing areas. The durability of olefins is a primary factor in the textile industry's demand for them. They are perfect for the textile industry due to their long lifespan and resistance to dampness. The creation of fiber is one of the most common industrial uses of olefin. Non-woven fabrics made from olefins like polyethylene (PE) and polypropylene (PP) are used for a wide variety of purposes, including but not limited to protective wear, personal hygiene products, and geotextiles. Coating materials, which are applied to textiles, also benefit from their use. Fabrics with these coatings are protected from the sun's rays as well as water and fire. Therefore, olefins are widely employed in the outdoor clothing industry.
Market Segmentation
Olefin oxides, olefin glycols, ethylbenzene, polyolefins, and cumene are the several product types that make up the global market. The polyolefins market saw the most expansion in 2022. They are a class of polymers that includes propylene and ethylene. Polyethylene (PE) and polypropylene (PP) are two examples of polyolefins that find widespread use in a variety of contexts, including those related to transportation, packaging, building materials, and consumer goods. More than sixty percent of the olefins used are PP and PE. Polyolefins are the most important product for the sector, but other products including olefin glycols, olefin oxides, ethylbenzene, and cumene are also important.
Ethylene, butadiene, propylene, butadiene, and butylene are just some of the types that make up the various segments of the global market.
The international market is broken down into wholesalers and distributors. Due to the many benefits that distributors bring to the table when selling olefins, this sector of the industry had the most growth in 2022. Distributors under the previous model source their products directly from manufacturers, with the intention of reselling them to compounders, processors, and converters. The market is more broadly reached through distributors since they work with specialized networks. Ethylene has a current price of about $1,200-$1,300 per metric ton in the United States.
Synthetic lubricants, polyethylene, detergent alcohol, cosmetics, plasticizers, adhesives, and others make up some of the application-based global market subsegments.
The fastest growth rate is expected to be in Asia.
Asia-Pacific is anticipated to be the fastest-growing region for the global olefins market. The industry in this area is currently the largest and fastest-growing worldwide. The massive output and consumption of products produced from olefins across application areas is the primary factor propelling the market forward. Some of the most influential countries include China, Indonesia, and India. These are highly populated areas, with the vast majority of residents coming from middle class backgrounds but also including many people who fall into the lowest income brackets.
This suggests that consumer spending in these economies is significantly higher than average. Another important contributor to the CAGR in the region is the increased investment in the expansion of the petrochemical industry. Both the production and consumption of olefins are currently dominated by China. The rising demand for consumer products and the fast investment in the petrochemical sector may also lead to stable growth in Latin America and the Middle East.
Olefins Market: Competitive Analysis
The global olefins market is expected to lead by players like:
BASF SE
ExxonMobil Chemical
Dow Inc.
Sumitomo Chemical Co. Ltd.
LyondellBasell Industries
Lotte Chemical Corporation
Saudi Basic Industries Corporation (SABIC)
Mitsubishi Chemical Corporation
Royal Dutch Shell plc
Formosa Plastics Corporation
Chevron Phillips Chemical Company LLC
INEOS Group Holdings S.A.
Idemitsu Kosan Co. Ltd.
China Petroleum & Chemical Corporation (Sinopec)
LG Chem Ltd.
PetroChina Company Limited
Occidental Petroleum Corporation
Braskem S.A.
PTT Global Chemical Public Company Limited
Reliance Industries Limited.
The global olefins market is segmented as follows:
By Product Type
Olefin Oxides
Olefin Glycols
Ethylbenzene
Polyolefins
Cumene
By Type
Ethylene
Butadiene
Propylene
Butylene
Others
By Distribution Channel
By Application
Synthetic Lubricants
Polyethylene
Detergent Alcohol
Cosmetics
Plasticizers
Adhesives
Others